Thu, 12 April 2012
The Matthew Filipowicz Show: Episode 108 with Cameron Esposito and D-Nick the Microphone Misfit
Episode 108 of the Matthew Filipowicz Show is now available to stream and download.
Coming up on today's show, we have comedian Cameron Esposito here to discuss the the challenges women comedians face and challenges all women face with the GOP's war on women.
We also have Chicago based hip hop artist D-Nick the Microphone Misfit back on the show to talk about his new album, Escape From Babylon.
We'll also discuss Trevon Martin's killer George Zimmerman being arrested and charged with 2nd degree murder, his attorney's horrible talking points, the UC Davis pepper spray report, Obama going back on on an Anti LGBT Discrimination order, the fact that only 30,000 homeowners have been helped under TARP, and Obama's horrible JOBS act.
We also have Rahm Emanuel's spokesperson here to defend his attacking of Chicago teachers.
Our writer/performer today is Bob Rok.
Remember, you can subscribe and podcast the show for free on iTunes and at www.matthewf.net. You can follow the show on Twitter and Facebook. You call the listener hotline at 617-855-TMFS. You can support the show by becoming a member. We have new shows every Tuesday and Thursday.
-Matt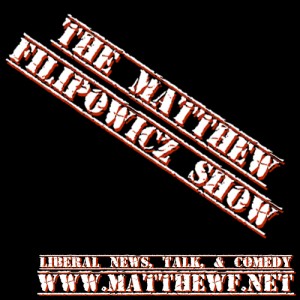 ---