Tue, 21 February 2012
The Matthew Filipowicz Show: Episode 93 with Chris Faraone
Episode 93 of the Matthew Filipowicz Show is now available to stream and download.
[audio:http://traffic.libsyn.com/matthewf/The_Matthew_Filipowicz_Show_93.mp3]
Coming up on today's show, we have Boston Phoenix journalist Chris Faraone here to talk about his new book, 99 Nights With The 99%.
We also have the head of the Cautious Catholic Caucus here to explain why he thinks Obama isn't a true Christian.
We also have listener calls on the topic of birth control.
Plus we'll discuss the Progressive Principles Conference at Yale, our visit to the abandoned Christian theme park, Holy Land USA, Rick Santorum's stance on science, Virginia's horrific state sponsored rape bill, and an Indiana Congressman's crusade against the Girl Scouts.
Our writer/performers today are Bob Rok, Tim Grimes and Amy Gard.
Remember, you can subscribe and podcast the show for free on iTunes and at www.matthewf.net. You can follow the show on Twitter and Facebook. You call the listener hotline at 617-855-TMFS. You can support the show by becoming a member. We have new shows every Tuesday and Thursday.
-Matt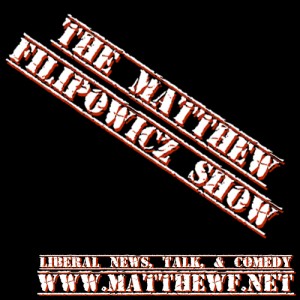 ---