Thu, 30 October 2014
Episode 372 with Greg Palast and Sharon Lerner
---
Tue, 28 October 2014
Episode 371 with Sarah Macaraeg, Alison Flowers and Karen Narefsky
---
Thu, 23 October 2014
Episode 370 with Michelle Schwartz and Nina Martin
---
Tue, 21 October 2014
Episode 369 with Mychal Denzel Smith and Emily Atkin
Coming up on today's show we have Mychal Denzel Smith back on the show to discuss the consequences of criminalizing mental illness, homelessness and drug addiction and how feminism shouldn't make men comfortable.
We also have Emily Atkin back on the show to discuss the new Pentagon report on climate change and the dangers of increased methane in our atmosphere caused by fracking and melting ice caps.
We'll also discuss the new book, Laughing Liberally: Letters To The American Voter that features essays by me and 11 other progressive comedians.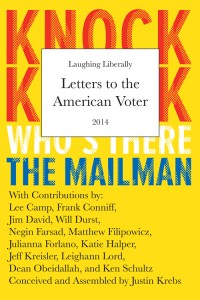 Support the show with a click of the mouse! Donate a post on your Twitter or Facebook today!
Remember, you can subscribe and podcast the show for free on iTunes, Sticher and at www.matthewf.net. You can follow the show on Twitter, Facebook and Tumblr. You can watch live video on our YouTube channel. You call the listener hotline at 617-855-TMFS. You can support the show by becoming a member. We have new shows every Tuesday and Thursday.
---
Thu, 16 October 2014
Episode 368 with Nusrat Choudhurry and Sarah Jaffe
---
Tue, 14 October 2014
Episode 367 with Allison Kilkenny, Jamie Kilstein and Ted Genoways
---
Thu, 9 October 2014
Episode 366 with David Dayen and Alice Ollstein
---
Tue, 7 October 2014
Episode 365 with Melissa Gira Grant and Trevor Timm
---
Thu, 2 October 2014
Episode 364 with Bryce Covert and Lee Fang
---