Tue, 25 October 2011
The Matthew Filipowicz Show: Episode 59 with arrested Occupy Chicago nurse Martese Chism, Ari Berman and Sarah Jaffe
Episode 59 of the Matthew Filipowicz Show is now available to stream and download.
[audio:http://traffic.libsyn.com/matthewf/The_Matthew_Filipowicz_Show_59.mp3]
Coming up on today's show, we have one of the nurses from National Nurses United who was arrested at Occupy Chicago this weekend, Martese Chism, here to talk about her horrible treatment behind bars.
We also have Ari Berman back on the show to talk about his cover story for the Nation Magazine, How The Austerity Class Rules Washington.
We'll also be talking, once again, to Alternet's Sarah Jaffe about the five mega banks that hold our country hostage.
Plus we have the founder of an anti-Occupy Wall Street Group here to discuss how billionaires are planning to Occupy the Dollar Store.
We'll also be discussing the police raid at Occupy Oakland, Rick Perry going birther, Herman Cain's crazy smoking ad, and the Obama administration's hiring of a TransCanada oil lobbyist.
Our writer/performer today is Chris Sowa.
Remember, you can subscribe and podcast the show for free on iTunes and at www.matthewf.net. You can follow the show on Twitter and Facebook. You call the listener hotline at 617-855-TMFS. You can support the show by becoming a member. We have new shows every Tuesday and Thursday. -Matt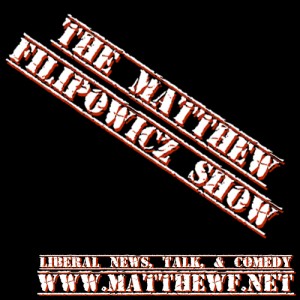 ---